---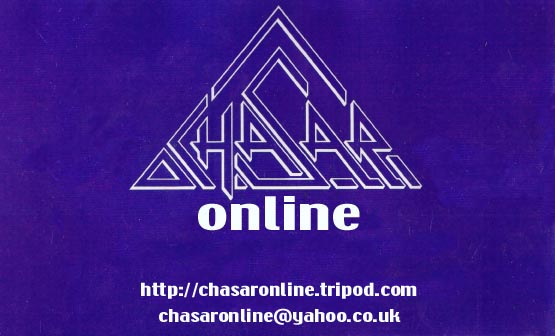 ---
EXIT
TURN THE PAGE
---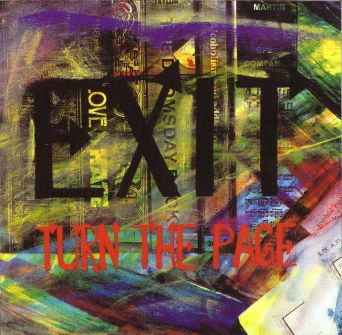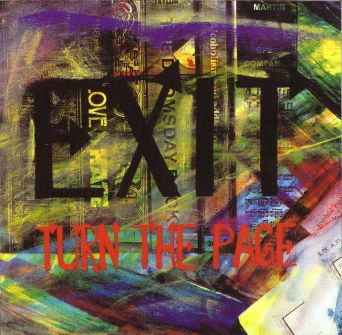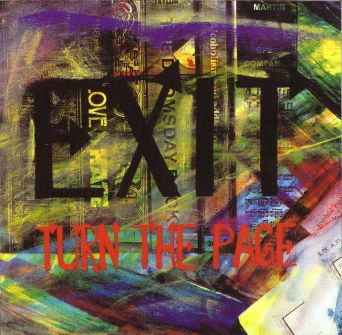 In the mid-1990s, after a stint with the first incarnation of covers-band No Dice, Alec Pollock joined a similar act who'd been playing the same circuit for a few years, Monitor Lizard. Original material began to develop and the line-up was finalised with Henry McIver on bass, Ronnie Horner on drums and Gregor McGregor on vocals. They changed the band name to the more user-friendly Exit and put this album together in Glasgow. The idea was to use it for promo purposes and sell it at gigs; sadly it never went any further than that.
So, then, what's it like? Pretty bloody good as a matter of fact. This is some intelligent progressive heavy rock with a slick-but-gritty sound pitched somewhere between latter-day Rush and '10'-era Pearl Jam. Horner and McIver make for a solid, more than capable rythm section, while Alec's guitar sound is still all-bossing. However, there are a couple of distinct contrasts with the Chasar album, firstly in the guitar-department. Alec uses a bigger variety of tones and textures here and is willing to leave space, inviting comparisons as diverse as Edward Van Halen and Richard Thompson; his solos are shorter and punchier than in the past, and there is more acoustic to be heard. The other major contrast - perhaps helping to bring out this variety in Alec's playing - is the remarkable voice of Gregor McGregor. Whereas Alec's singing on the earlier album is perfectly fine but functional, filling its role against the vituoso clamour of Chasar at full tilt, McGregor's voice here is an instrument in itself demanding its own space in the arrangements to be heard. This guy can sing! The power and tonal quality of, say Paul Rogers or Phil Mogg with occasional Geddy Lee phrasing ... it works.
As for the songs, well, they work, too. Plenty of light-and-shade in the song structures, with running lyrical themes of confusion, uncertainty, searching and assorted gloom (mirrored in the cover art). The title track and 'Madness' are fine, straight-ahead rock tunes, with the latter in particular breaking down for some atmospherics and an impressively-structured solo. 'Darkside' starts as an acoustic pop rocker with distinctly un-pop lyrics before the double tracked guitars lead up to a very Thin Lizzy finale. 'Let It Go' is a real album highlight with a 'what the fuck?!?' opening riff and a stomping chorus, and 'The Silence' is all eerie guitars and drama. 'Pull the Pin' is probably my favourite track on the album. The open-string, grungey verse leading to a just-right Big Heavy Chorus before unexpectedly taking the album's most Rush-like turn halfway through.
Album finisher 'Wasteland' is a moody slow-builder, with another fine vocal turn, delivering a grim lyric with recurring imagery of ethnic cleansing and torture chambers. Here too is the finest guitar performance on the album, with a perfectly judged solo balancing extremely advanced technique with unhampered expression.
That Exit never found a wider audience with this album than when punting it at gigs is a real shame. At least now it's available for people to check out. And it's worth the effort.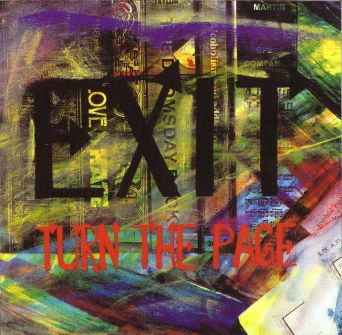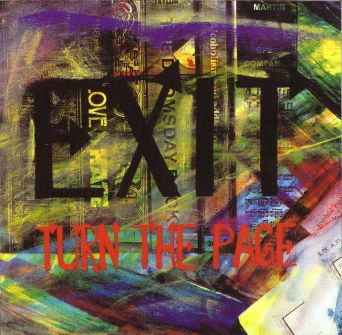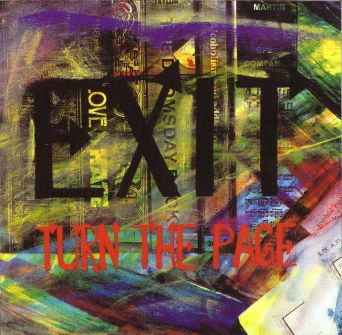 Craig Hughes, 2000.
---
Exit cover art by Leeanne Pollock.
---
SITE CONTENTS * CHASAR ONLINE REVIEWS *
BAND PERSONNEL * DISCOGRAPHY & RECORDING HISTORY *
GALLERIES & PRESS ARCHIVES * EXIT/ NO DICE * SMOTHERPARTY * LINKS * HOME