---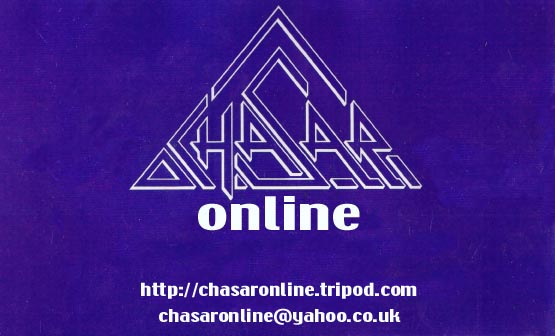 ---
RECORDING HISTORY
---
The Album
'Chasar' [also known as 'Gypsy Roller'] (1983)


Track listing: 'Destiny', 'Visions of Time', 'Deceiver', 'Kings', 'Lights', 'Gypsy Roller', 'Underground'
All tracks written by Chasar.
Album history:
Chasar: 'Chasar', produced by the band, was recorded in two and a half days at Run Rig's Castlesound studio in Edinburgh. It was first released on cassette only in 1983 on the band's own label, MPM, cat. no. CH333G. One thousand cassette sales later, it was finally picked up by American Phonograph and given a UK vinyl release at the end of June 1985, cat. no. APK11 (distributed by Pinnacle), and was given a great review in 'Kerrang!' The band was misled as to the album's sales and availability (American Phonograph told them it had been deleted in 1986; bullshit - the album remained on the label's stocklist until at least late '88).
In addition to this, without Chasar's knowledge, a Belgian-pressed European issue of the LP was released sometime in the late '80's (probably around 1987) on Mausoleum Records as 'Gypsy Roller', cat. no. SKULL 8397. This was also apparently issued on CD in the 90s.
In 2000, the album was privately reissued on CD via Trax Studio.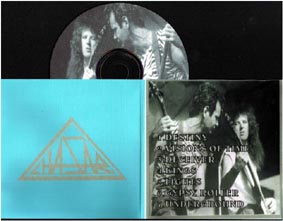 Availability:
'Chasar' is pretty hard to find in any of its original guises these days. The American Phonograph version currently fetches upwards of £20 in the UK, a little more (around £25) in Germany. The Mausoleum LP is an unknown quantity in the UK, but fetches upwards of £8 in Germany It has been advertised at as much as £18. Currently no informatin on the Mausoleum CD.
The original cassette is a real rarity (only 1000 were produced, and these were sold , mainly at gigs, well before the release of the LP); one recently went for $36.00 (about £24.00) on E-bay.
For information on the Trax Studio CD issue, go to links .
---
Bootlegs
'Official Bootleg' (2001)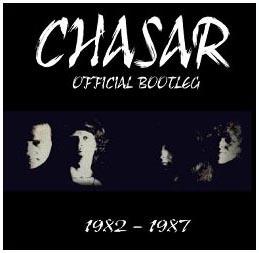 Track Listing: 'Good Times Bad Times', 'Tear it Apart', 'The Wizard', 'Thrill of the Crime',
'Underground (live)', 'Heartache', 'Devils Revenge', 'Lost in Love'.
All tracks written by Chasar.
Album details:
Private release via Trax Studio, CD only. See links .

---
Broadcasts - tapes of the sessions below have been circulating for years ...
Sessions
Chasar recorded a 1982 session for Radio One (Friday Rock Show, 10/12/ 82).
Tracks: Destiny, Underground, The Devil's Revenge
Concerts
Radio Clyde broadcast the band's 1987 set from the Glasgow Kelvingrove Festival (24/05/87).
Tracks: Heartache, Lost in Love, Thrill of the Crime, Loser to Love, Destiny, Tear it Apart, I Wanna Rock, Good Times Bad Times.
Tapes have also been traded of an earlier Radio Clyde/Kelvingrove Festival set and an early gig in Irvine - copies of/info on these would be greatly appreciated by Chasar Online!
---
Other Releases
'War On The Planet'
An obscure European compilation LP, 'War On The Planet' apparently features a couple of Chasar tracks. Another unauthorised release, these tracks are most likely from the 'Chasar'/'Gypsy Roller' album.
There was talk of a self-released 12" EP around '85/'86, and recording was started on a new album in '87, but these never materialized.
---
Other Significant Recordings
Demos
Non-album tracks recorded: The Wizard, Can't Say No, Playing the Game, Out of Touch, I Wanna Rock, Loser to Love, Heartache, Lost in Love, Thrill of the Crime, Tear it Apart, I Wanna Rock, Good Times Bad Times.
The band recorded several demos throughout their career, many of which received airplay on the Tommy Vance Friday Rock Show (Radio One), and extensive airplay on Radio Clyde (particularly Tom Russell's Rock Show). Some of these now appear on the 'Official Bootleg' release.
---